"

LOST IN BERMUDA" by Mary Sedici | RedBubble
: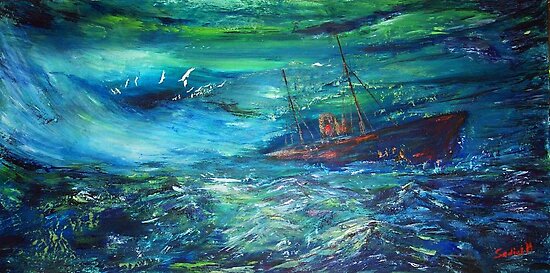 youtube:au///watch?v=6IyqVMH4pZk&feature=player_embedded
I've been born in Arad – Romania, a historic city, dating back to the 9th Century. My mother is Hungarian, and my father was Serbian, so I would consider myself a "hybrid" child.
All my Art is executed under the strong impulse of creating, mixing colors, and sometimes by wild or extreme ideas. Always the moment and the mood counts….Because I execute all my paintings without "planning ahead", I would call myself an instant creator. This frees me of being contained to theme or colors, giving me the ability to make any time radical changes.
Colors are my main inspiration, and many times I choose the theme because I am in the mood of painting blue, red, or any other color.
Beside colors, Music is my main inspirations. I can't separate them, nor I can paint without listening rhythmic music. Rhythm and Colors – this is what life is about…
I am here not only to exhibit my work, but also to help out everyone who needs a hand, weather is about language or getting around the multiple features of RedBubble