r ************************************** She is compensated for the advertising through this site. If you select a match from this website you will be redirected to a third party advertiser's website whose terms and conditions and privacy policy may differ significantly from our own. Third party advertisers provide all advertising material and we make no warranty on the accuracy of information presented here.
Awesome Gift for You sweet Kids
Thinking about selling on Amazon

PRAYERS AND IMAGES FOR THOSE WHOM ARE ILL OR READY FOR HEAVEN
< div class="separator" style="clear: both; text-align: center;">
AngelsAngels Escorting AAngWHEN I DIE....DO NOT CRY
Art Work by Sherri of Palm Springs
From Angie McClinton
Robs Last Journey To Heaven
To Those I love and Those Who Loved Me
When I am gone, release me, let me go…

by Viv, At Redbubble....Vigor
I thank you so much for your beautiful plsam and what a gorgeous
image that you did...lovely
Sherri
http://www.redbubble.com/public/vigor
I have so many things to see and do
You mmustn't tie yourself to me with tears
Be happy that we had those precious years.
I gave you my love, you can only guess

How much you gave me in happiness.
I thank you for the love you each have shown
But now it's time I travelled on alone.
So grieve a while for me if grieve you must;
Then let your grief be comforted by trust.
It's only for a while that we must part,.
So bless the memories within your heart.
….
And then when you must come this way alone,
I'll greet you with a smile and say,
"Welcome Home".
author unkown, but sent to me from a dear friend at Red Bubb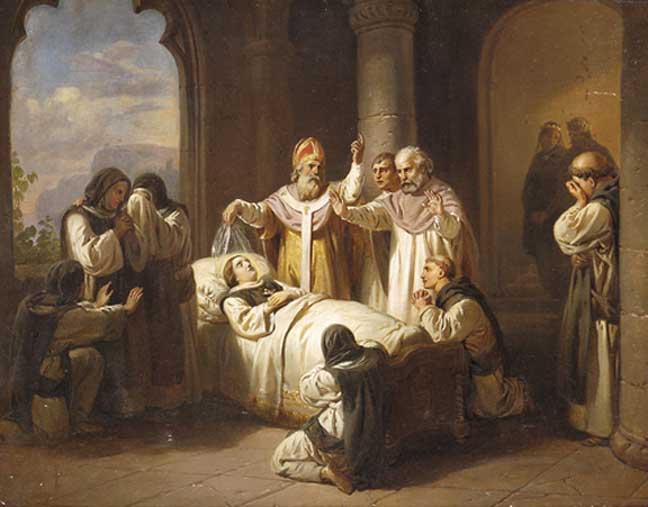 approaching, for you or a loved one, as they are short and easy to memorize. When one is facing life's end, it is easy to forget a long prayer or series of prayers.
Still, in these last moments, you want to express your love and desire to be with God and all the angels, saints, and dearly departed. Or perhaps you wish to convey these prayers to our Lord on someone else's behalf. When it comes to matters concerning Eternity, little things like reciting these prayers can make all the difference!
Good Jesus, give me a deep love for You, that nothing may be too hard for me to bear from You.
You know Lord, that I am all weakness; teach me to bear my cross. Bear it for me, bear it in me.
O Good Jesus, my God and my All, keep me ever near You, let nothing for a moment separate me from You
Good Jesus, to You I flee; hide me in Your sacred side.
O Good Jesus, shelter me from the evil one, shed Your dew upon me to calm my soul, and dwell in me fully, that I may wholly love You.
Good Jesus, Who has borne so patiently with me; make me wholly patient for love of You.
Good Jesus, lead me that I may follow You; hold me that I may cling fast to You; teach me, that I may choose you alone; keep me that I may be Yours for ever.
These aspirations for the dying below are especially important for those undergoing what has been called their Last Agony before death. The dying person can recite them, but they can also be recited close to him or her, or even whispered in their ears, if they are too weak to speak.
(We also would like to recommend a prayer on our page o

known as a "Pra
................................................................................................................................................................